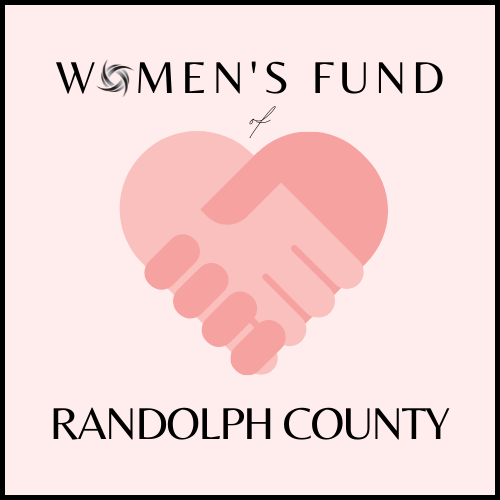 ENHANCING FUTURES FOR WOMEN AND CHILDREN
Women Make A Difference. Wherever we live, we strengthen the fabric of our community through participation and leadership. The Women's Fund of Randolph County, a component fund of the Community Foundation of Randolph County, was established by women to enhance the futures of women and children throughout Randolph County. Started in 2011 by the late Rev. Cherie Isakson, the fund was designed so that 50% of contributions is given away in grants to nonprofit organizations for projects that empower women and/or children, 40% of contributions is retained to grow the fund, and 10% is used for program and membership expansion. Since its inception, the Women's Fund of Randolph County has granted nearly $30,000 and is endowed with a balance over $40,000.
Everyone who makes a minimum contribution of $50 is considered a member of the Women's Fund of Randolph County. Every year, through our wonderful members and generous donors, grants are distributed at a brunch event, which also features silent and live auctions. All proceeds from the event go back into the Women's Fund.
By becoming a member, you are making a huge difference in our community; you are helping provide grants to local nonprofits.
All gifts made payable to the Community Foundation of Randolph County with "Women's Fund" on the memo line are tax-deductible. If you are interested in joining the Steering Committee, please contact the Community Foundation.
---
2023 women's fund annual brunch & auction
Fellowship & Philanthropy:
LUCKY THIRTEEN – Thirteen years of paying it forward
Saturday, August 12, 2023 @ 10:00 AM
St. Joseph Catholic Church – Parish Hall
514 W. Washington St.
Winchester, IN 47394
---
Women's fund grant awards
| YEAR | AMOUNT | GRANTEE |
| --- | --- | --- |
| 2023 | $500 | Children's Advocates of Randolph County |
| 2023 | $2,719 | Greater Randolph Interlocal Cooperative (GRIC) |
| 2023 | $2,500 | Randolph County YMCA Girls on the Run |
| 2022 | $1,736 | Monroe Central Schools - All Pro Dads Program |
| 2022 | $2,500 | Randolph County Sharks Swim Team |
| 2022 | $1,250 | Randolph County YMCA Girls on the Run |
| 2021 | $1,135 | Children's Advocacy Center |
| 2021 | $2,000 | Community Help Center |
| 2021 | $500 | Randolph County YMCA Girls on the Run |
| 2020 | $1,520 | Monroe Central Schools - All Pro Dads Program |
| 2020 | $1,224 | Randolph County YMCA Girls on the Run |
| 2019 | $250 | Farmland Public Library-A Changing Table |
| 2019 | $1,095 | Monroe Central Schools - All Pro Dads Program |
| 2019 | $500 | Randolph County YMCA Girls on the Run |
| 2019 | $1,000 | Union School Corporation-Hygiene Room |
| 2019 | $650 | Randolph Central School Corporation-Strengthening the Nest Program |
| 2018 | $500 | Randolph County YMCA Girls on the Run |
| 2018 | $1,000 | Winchester Area Churches and Community Food Pantry |
| 2017 | $500 | Randolph County YMCA |
| 2016 | $1,000 | 2nd Harvest Food Bank |
| 2016 | $1,000 | Pregnancy Care Center |
| 2016 | $500 | Better Way of ECI |
| 2016 | $2,000 | Randolph County YMCA |
| 2016 | $500 | Habitat for Humanity |
| 2015 | $750 | Randolph County YMCA |
| 2015 | $1,000 | Girl Scout Troop 02254 |
| 2015 | $750 | Preservation Society of Union City, IN/OH |
| 2014 | $500 | Pregnancy Care Center |
| 2014 | $2,000 | Girl Scout Troop 02254 |
| 2014 | $1,000 | Habitat for Humanity |
| 2013 | $1,000 | Randolph County YMCA |
Gallery of past Women's Fund Brunch and Auction events