We are YOUR Community Foundation! Our mission is to bring people and resources together to strengthen the quality of life, both now and in the future, for the residents of Randolph County.
The Community Foundation of Randolph County, Inc. is here to make our community the very best place to live, work, and raise a family. As a non-political private organization, we are uniquely able to provide grant money for innovative projects that have a major impact on our community.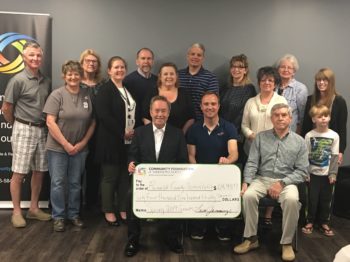 The Community Foundation's work falls into three major categories: grant-making, donor service, and community convening. Our most visible activities are the grants and scholarships we award each year. In 2016, the Foundation provided $284,785 to the community in grants and scholarships (not counting the Lilly Scholarship, which is paid by the Lilly Endowment). Most of these awards come from income earned from permanently endowed funds. Some of these endowed funds are unrestricted, meaning that the Foundation board has the responsibility to use the income as it best determines, generally in response to applications from community organizations. Scholarships and other grants come from funds that donors have established for certain purposes.
Helping donors achieve their charitable goals is another important activity of the Foundation. We work with individuals and organizations that want to create a lasting legacy in Randolph County. For as little as $10,000, donors can create a permanent endowment fund that generates income to benefit any charitable cause they wish to support.
Being a non-political private organization, the Foundation also serves as a convener of organizations and individuals around a particular cause. As an organization looking out for the welfare of the entire county, we can be a safe and neutral place for people to discuss problems and potential solutions to the issues that face Randolph County.
History of the foundation
The Council on Foundations defines a community foundation as a tax-exempt, nonprofit, autonomous, publicly-supported, philanthropic institution composed primarily of permanent funds established by many separate donors for the long-term diverse, charitable benefit of the residents of a defined geographic area.
In 1993, a group of concerned volunteers gathered to establish a community foundation in Randolph County. They recognized that this new type of charitable organization would provide something Randolph County had never had; a charitable organization that allows donors to support any type of charity they choose, and, more importantly, a charity that is established to last forever. They worked diligently to establish the organization and gain those first gifts. Each gift was invested into a permanent fund called the Community Enrichment Fund. Those gifts have since developed into the endowment which exists today. The income from that endowment is what is used to make grants in the community possible.
From its humble beginning, the Foundation has evolved into a community leader. The Foundation has become a constant source of financial support to local non-profit organizations. The board of directors has established a structured group of committees, which actively monitor investments, grants, scholarships, donor relations, and overall operation of the Foundation.
Through its scholarship and grant programs, the Community Foundation makes it possible for charitable organizations and students to stretch themselves to improve their own lives and the community as a whole. These dollars are not available anywhere else in the community. We are vital to these groups and individuals. Grants from the Foundation allow community organizations to do remarkable things in Randolph County.