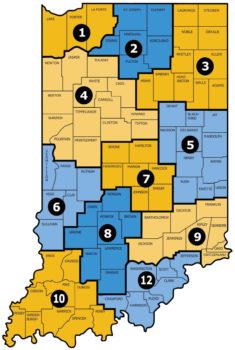 In 1997, the Indiana Arts Commission (IAC) and 12 community-based organizations jointly established the Indiana Regional Arts Partnerships (RAP), a collaborative project to enhance support for arts and cultural activities statewide, especially in underserved areas. The RAPs enhance the delivery of services, move the decision-making about IAC funds closer to you, and are the cornerstone of the IAC's structure.
As the Region 5 Regional Arts Partner, the Community Foundation of Randolph County provides resources and information for arts in Blackford, Delaware, Fayette, Grant, Henry, Jay, Madison, Randolph, Rush, Union, and Wayne Counties.
Learn more about the Indiana Regional Arts Partnerships.
The Regional Initiative Grants provide funding for general operations and arts programming through the Arts Organization Support and Arts Project Support programs. Projects for the FY24 grants will need to occur during the funding period of July 1, 2023 – June 30, 2024.
Applications for FY24-25 AOS and FY24 APS programs are now closed. 
Arts Project Support
Arts Project Support grants provide funding to nonprofit organizations to support a specific part of the organization's arts activities, such as a one-time event, a single production, an exhibition, an educational workshop, or a series of related arts activities such as art classes or training sessions. APS applicants may request up to $5,000 to support their arts project. There is no match requirement for Arts Project Support in Fiscal Year 2024.
>>> FY24 APS Guidelines <<<
Click here to learn more on the IAC's website.
FY24 APS GRANT TIMELINE
Grant Cycle Dates
Fiscal Year 2024 Grant Cycle: July 1, 2023 through June 30, 2024
Pre-Application
Applications Open: Jan. 4, 2023
Draft Review for New Applicants Due: Feb. 23, 2023
Application Due: March 9, 2023 11:59 PM (EST)
After Application Submission
Public Panel Review: April 20-May 4, 2023
Commission Approves Grants: June 9, 2023
Applicants Notified of Status: June 12, 2023
If Funded
Next Steps Form Assigned: July 2023
Grant Agreements are Processed: July 2023-Sept. 2023
First Payment: Oct. 2023
Final Grant Report Due: July 13, 2024

Arts Organization Support 
Arts Organization Support grants provide annual operating support for the ongoing artistic and administrative functions of nonprofit arts organizations. For FY24-25, the AOS program has been updated to more accurately and intentionally incorporate the IAC's commitments to equity and inclusion. These updates will affect how funding is dispersed across the state and within Region 5. Review the IAC's What's New With AOS webinar here.

We want to make sure you're eligible for AOS funding before you spend time on the application. Take the eligibility quiz in the FY24-25 Guidelines linked below. If you can say "yes" to all of the questions with absolute certainty then you're welcome to apply. If you have any hesitation, Arts Project Support may be a better option for you. Applications that are submitted by organizations that are not eligible will not be considered for funding. Eligibility is determined after the deadline which means — if not eligible— it will be too late to apply for Arts Project Support.
>>> FY24-25 AOS GUIDELINES <<<
Click here to learn more on the IAC's website.
FY24-25 AOS GRANT TIMELINE
Grant Cycle Dates
Fiscal Year 2024 Grant Cycle (Year 1): July 1, 2023 through June 30, 2024
Fiscal Year 2025 Grant Cycle (Year 2): July 1, 2024 through June 30, 2025
Pre-Application
Applications Open: Jan. 4, 2023
Draft Review for New Applicants Due: Feb. 23, 2023
Application Due: March 9, 2023 11:59 PM (EST)
After Application Submission
Public Panel Review: April 20-May 4, 2023
Commission Approves Grants: June 9, 2023
Applicants Notified of Status: June 12, 2023
If Funded
Next Steps Form Assigned: July 2023
Grant Agreements are Processed: July 2023-Sept. 2023
First Payment: Oct. 2023
Year 1 Final Grant Report Due: July 13, 2024
Year 2 Final Grant Report Due: July 13, 2025
Grantee Resources
FY23 Regional Initiative Grant Timeline
July 1, 2022 – June 30, 2023 – Program Funding Period
July 13, 2023 – Final Grant Report Due, 4:30 pm (EDT)
August – September 2023 – Second Payment (25%)
Past Year's Program Materials