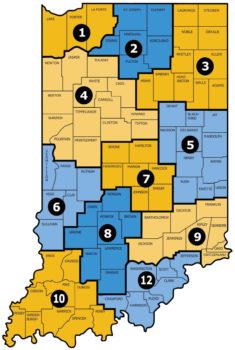 In 1997, the Indiana Arts Commission (IAC) and 12 community-based organizations jointly established the Indiana Regional Arts Partnerships (RAP), a collaborative project to enhance support for arts and cultural activities statewide, especially in underserved areas. The RAPs enhance the delivery of services, move the decision-making about IAC funds closer to you, and are the cornerstone of the IAC's structure.
As the Region 5 Regional Arts Partner, the Community Foundation of Randolph County provides resources and information for arts in Blackford, Delaware, Fayette, Grant, Henry, Jay, Madison, Randolph, Rush, Union, and Wayne Counties.
Learn more about the Indiana Regional Arts Partnerships.
The Regional Initiative Grants provide funding for general operations and arts programming through the Arts Organization Support and Arts Project Support programs. Projects for the FY22 grants will need to occur during the funding period of July 1, 2021 – June 30, 2022.
Applications for both programs must be submitted through the IAC's online grant system no later than March 4, 2021.
Arts Project Support

Info Session & Application Webinar: February 2, 2 PM (EST), Register Here
Arts Project Support grants provide funding to nonprofit organizations to support a specific part of the organization's arts activities, such as a one-time event, a single production, an exhibition, an educational workshop, or a series of related arts activities such as art classes or training sessions. APS applicants may request up to $5,000 to support their arts project. In response to the pandemic, the IAC has removed its 1:1 match requirement and adjusted its funding priorities.
Click here to learn more.
Arts Organization Support i & II

Info Session & Application Webinar: February 3, 2 PM (EST), Register Here
Arts Organization Support (AOS I or AOS II) grants provide annual operating support for the ongoing artistic and administrative functions of nonprofit arts organizations. First-time applicants to the Arts Organization Support program must submit the Letter of Intent portion of the application in the IAC online grants system by January 19, 2021.
Click here to learn more.
FY22 Regional Initiative Grant Timeline
July 1, 2021 – June 30, 2022 – Program Funding Period
February 2, 2:00 p.m. (EST) – Arts Project Support Info Session via Zoom   |  Register Here >>
February 3, 2:00 p.m. (EST) – Arts Organization Support Info Session via Zoom   |   Register Here >>
February 22, 2021 – Deadline to request draft application review (email beuliss@randolphcountyfoundation.org)
March 4, 2021 – Application Deadline, 4:30 p.m. (EDT)
Late April 2021 – Application Panel Review (dates TBA, will occur via Zoom)
Early July 2021 – Award Notification
September – October 2021 – First Payments (75%)
July 13, 2022 – Final Grant Report Deadline, 4:30 pm (EDT)
Grantee Resources