The Community Foundation of Randolph County will host its annual Women's Fund brunch and auction on Saturday, August 28 from 10 a.m. until 12:30 p.m. at the St. Joseph Catholic Church Parish Hall in Winchester. Proceeds from the event go to the Women's Fund of Randolph County for grants that empower women and children.
Tickets for the brunch are $20 each and must be purchased by August 13, 2021, at the Community Foundation office, 120 W. Washington Street in Winchester, or online at www.randolphcountyfoundation.org/grants/womens-fund/  Tickets are limited for this event, and none will be sold at the door. Those interested are encouraged to purchase tickets early.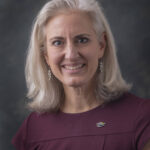 Elizabeth Helms will speak at the brunch as well as the organizations that received grants from the Women's Fund earlier this year. Grant recipients will share information about their projects that empower women and children in Randolph County. Helms is a Family Nurse Practitioner at Ascension St. Vincent and an advocate for projects and organizations that empower women and youth. She was instrumental in helping to bring the Creating Positive Relationships Program to Randolph County Schools to help reduce teen pregnancy. She also brought the Reach Out and Read Program to four rural Randolph County health clinics. The program ensures that children ages six months to six years receive a free book during their well-child check. Helms has served as a Sexual Assault Nurse Examiner and helped secure funding for the Randolph County Sexual Assault Response Team. She has also served as a Girl Scout leader and is a volleyball coach.
Other popular components of the event are the silent auction, live auction, and art auction, which features tables full of beautiful items donated by local businesses, individuals, artists, and organizations.
"The art auction has been a great success at past events, and we are excited to be including it again this year," stated Lisa Jennings, Executive Director of the Foundation. "Old National Bank, Winchester Rotary Club, and First Presbyterian Church have generously donated money to sponsor the cash prizes for artwork.  All donated artworks will be judged and there will be one $500 first-place award plus two $250 honorable mention awards. This being our 10th anniversary, the honorable mention awards will be presented with special recognition given to Cherie Isakson and Ruth Mills for their vision of creating better futures for women and children in our community.  We also added event sponsors this year as well.  They are LifeStream Services, Randolph Nursing & Rehabilitation Center, and an anonymous supporter."
Proceeds from sold artwork and other auction items will be used to fund future grants for projects that empower women and children and to grow the Women's Endowment Fund.
The theme of this year's event is Reflections on 10+ Years of Giving.  However, artists are not required to incorporate the theme into their artwork.  Mediums of all types will be accepted but should be a size and weight that will allow one person to carry it (50 lbs). Pieces should be stable when on a flat surface or be able to be hung on a wall.
Artists interested in donating artwork should confirm their participation by calling the Foundation at 765-584-9077.  Artwork should be delivered to the Community Foundation of Randolph County on Monday, August 16h or Tuesday, August 17h from 9 a.m. – 5:00 p.m. Art will be judged on Wednesday, August 18th. Prize winners will be notified on Thursday, August 19th, and will be recognized at the brunch on August 28th.
The Women's Fund is a component fund of the Community Foundation of Randolph County. It was opened in 2011 by the late Rev. Cherie Isakson to create better futures for the women and children of Randolph County.  Isakson passed away in 2013 but the fund lives on.
Since its inception, the fund has granted more than $20,000 to Randolph County non-profit organizations. Past grant recipients include the Girl Scouts, Pregnancy Care Center, and YMCA Girls on the Run, to name a few.
In addition, enough money has been saved to open an endowment fund, which has a balance of more than $25,000. Anyone may become a member of the Women's Fund by making a yearly donation of $50. All members are welcome to serve on the committee that selects grant recipients and plans the brunch.
Guests at the August 28 event will enjoy mimosa punch and a catered meal prepared by Catering by Michael.  All ladies are welcome and are encouraged to bring friends, sisters, mothers, and daughters.