The News-Gazette and the Community Foundation of Randolph County continue their celebration of local heroes who have impacted the community or exceeded expectations to serve others. This effort is the result of a Community Foundation program that helps recognize such people while also raising money to help others.
"We thought a really neat thing would be to create a list of Randolph County Heroes," said Community Foundation board member Cathy Stephen-Miller of the ongoing program which started in 2015. "For $1,000, anyone can nominate a person (living or deceased), organization, business, or community organization for the designation of a Randolph County Hero. The money goes into our unrestricted fund, which the board uses to do great things for Randolph County. It all has to do with making Randolph County a great place to live."
Those designated as Randolph County Heroes will have their names on a plaque in their honor at the Foundation office and will be featured in the News-Gazette.
 The Randolph County Heroes Fund is a wonderful way to remember someone who has passed, knowing the money contributed will help others for years to come. It is also a great way to honor those currently working to make Randolph County a better place. People like Dr. Philip Howell, who was nominated by Al and Missy Williams.
Dr. Philip Howell
 Philip A. "Doc" Howell is certainly a HERO for many people and animals around the Randolph County area. From caring for farm livestock to treating the family pet, Doc Howell has been there for many years to serve his community. Dr. Howell has served on the Board of Directors of the American Angus Association, worked with kids at many a county fair (including his endless hours of education right here in Randolph County), and has served as a deacon at Countryside Christian Church. He has been a leader, a mentor to young and old alike, and a friend and teacher to 4-H kids.
Dr. Howell attended Purdue University and graduated with a Doctor of Veterinary Medicine degree in 1973. After graduation, Phil worked in mixed animal practices in Cedar Grove, Wisconsin and Silver Lake, Indiana. To be closer to family, he purchased a practice in Winchester, Indiana in June 1979. He is a member of the American Veterinary Medical Association, Indiana Veterinary Medical Association where he completed two terms on the board, American Association of Bovine Practitioners, and the Indiana Bovine Interest Group. In 1973 he married Judith Diane Siewert. Judy is a registered nurse (retired) and a past president of the Indiana Angus Auxiliary. Phil and Judy have been blessed with three children, all Purdue graduates. Phil has served as a member and president of the county extension board and council and the Randolph County Beef Producers. He has been a member of the Agricultural Outreach Board of St. Vincent Randolph Hospital and the Randolph County Board of Health. He and Judy are members of Countryside Christian Church (Disciples of Christ) of Winchester, Indiana, where Phil has served as an elder for more than 20 years and as a Sunday School teacher for junior high boys. In 1961 Phil purchased his first Angus heifer from Don Watkins of Beaver Ridge Farm in Middletown, Indiana. Phil has served as president of the Indiana Junior Angus Association (1969), IAA (2005), and the Southeastern Indiana Angus Association (2009). Since 2005 he has served on the IAA board. He has served as chairman of the communications committee as the Indiana Angus News has evolved from a half-size black-and-white publication to a full-size full-color magazine. Email blasts and digital editions of the News have evolved during his term. Since 2005 he has been a voting delegate to the American Angus Association Annual Meeting. In 2006 he was chairman of the NJAS Daily Volunteers Committee, and he served as the veterinary service coordinator when the NJAS returned to Indianapolis in 2014. Phil and Judy currently own 50 cows, with the majority being registered Angus. They have used artificial insemination (AI) extensively, as well as embryo transfer (ET), ultrasound, and genomic evaluation. Performance testing has been used since the mid-1960s. They have hosted several open house/private-treaty sales at the Winchester farm, and they have consigned cattle to several sales. During his first term on the American Angus Association Board, Phil served on the board of Angus Productions Inc. (API) for one year and on the board of Angus Genetics Inc. (AGI) for two years. He served as chairman of the Data Force Subcommittee. He was vice chairman of the Industry Relations Committee. If elected to a second term, he would pursue his original goal, which was the discovery and multiplication of superior Angus genetic material from small or large herds. He would work to increase the value of the Angus registration paper. Working to increase the impact of the American Angus Association within the beef and agriculture industries would be a goal using the long-term plan that has been developed by the current Board. He would encourage the work of the Angus Foundation in funding scholarships and education. He feels that the Angus Media mission of telling "the Angus story" to consumers and other agricultural producers should continue to grow using innovation and continued excellence in print, audio, and visual applications.
Perhaps the best tribute to Phil's kindness and service comes from his three children:
"For 35+ years we have watched my dad follow his passion for animals and people. Many nights of my youth were spent in the truck, in a barn, or at the kitchen table working in one form or another. If someone called, my dad was there to answer. Pull a calf, trim feet, treat a sick dog, proofread an essay, my dad might do all of them in the span of one evening. Dinner time? That might be 6, or 8, or 9:30. The phone rings in the middle of the night? It was answered. And, the saying is true, behind every good man is a wife to support him. My mom was right there supporting him and us in all of our endeavors. (And, keeping dinner warm!)"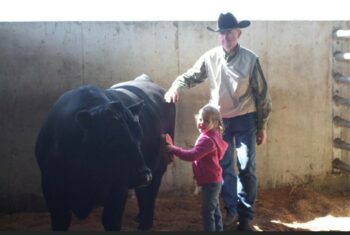 "Our dad taught us that we can learn from everyone we meet. Whether the example was good, or bad, there was a lesson in all of our experiences. His goal – be a good example for everyone we meet. Even now that we have been out of 4-H for 20 years, Dad can still be found in the show ring as a ringman, helping check in animals and providing vet services when needed in the barns, and mentoring those who may not have the room for cattle at home, but want to be on the lead end of the show halter."
"Dad also taught us the importance of a relationship with God and a church community. He's served as an elder, helped in the nursery, and I never will forget the night he volunteered as the youth group had a lock-in and Bible read-a-thon. He served as an adult volunteer to listen as members of the youth group took turns to read the Bible. I happened to get the "begats". And, yes, I had to read all of those names and try to pronounce them as closely to accurate as possible. No skipping over names when Dad was listening! It may have been annoying then, but I appreciate that he taught us that shortcuts were not the way to get where we wanted. Success comes from hard work and persistence, not giving a half-hearted effort. I don't remember a time when either of my parents allowed us to submit work that was not our best effort. We may have been in the barn at midnight, or spread out across the kitchen table or living room, or even hemming a skirt at a family event, but whatever we worked on, it would be finished, and it would be presentable!"
Signed,
Emily Reynolds, Andy Howell, & Brian Howell