Local wind farm operator invests in GIFT VII 

Matching Grant Program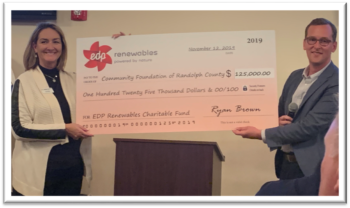 WINCHESTER, IN, (Nov. 12, 2019) – EDP Renewables North America (EDPR), the largest owner-operator of wind farms in Indiana, announced a $125,000 donation to the Community Foundation of Randolph County as part of its ongoing commitment to the Randolph County community.
EDPR's donation will be part of a 2-1 match, allowing the Community Foundation to take full advanta
ge of Lilly Endowment's GIFT VII Matching Grant Program. The Community Foundation strives to promote innovation in Randolph County through grant-making, social service and community convening, enriching residents' lives.  EDPR's contribution will endow a new EDP Renewables Charitable Fund that will support Randolph County residents and community projects for years to come.
On November 12, the Community Foundation hosted a Donor Appreciation Event at Towne Square Community Centre in Winchester Indiana. During the event, EDPR Executive Vice President Ryan Brown publicly announced the $125,000 donation and shared the positive impact EDPR's planned Headwaters II Wind Farm and Riverstart Solar Park will have on Randolph County.
"EDP Renewables believes in being a good neighbor and supporting the communities that host our wind farms and solar parks, explained EDPR's Brown. "Renewable energy powers opportunity in America. We are building enough wind and solar capacity in Randolph County to power 150,000 Indiana homes and this donation is one way for us to show our appreciation to the communities that have made this possible."
"The newly established EDP Renewables Charitable Fund is a permanent investment in Randolph County, allowing the Community Foundation to award grant dollars to improve the lives of the residents of the County, today, tomorrow, and forever," said Lisa Jennings, Executive Director of the Community Foundation of Randolph County. "The EDP Renewables Charitable Fund, made possible by EDPR, is endowed, meaning that the foundation invests the money and uses the gains from those investments to do good things in our community year after year. It is like EDPR is making a gift that will continually give back to our community for years and decades. Wind and solar energy are all about sustainability and this gift from EDPR is about charitable sustainability for our County."
EDPR's Headwaters I Wind Farm produces enough clean electricity to power more than 55,000 Indiana homes and has paid more than $13.7 million to local landowners through 2018. The facility will be expanded to create Headwaters II Wind Farm, which is currently under construction, with operations expected to begin in 2020.  EDPR's Riverstart Solar Park is also under development in the area and is expected to be operational in 2021.
EDPR is continuing a tradition of support, as the company has previously donated to the Community Foundation of Randolph County's Randolph County Promise program, a program designed to encourage students to begin thinking about and preparing for vocational or college education after high school. Community foundations are made possible when people and organizations give back to their community like EDPR is doing with this gift.  The Community Foundation of Randolph County is proud to steward this and other gifts to ensure that they continue to have a positive impact on the residents of Randolph County.
About EDP Renewables North America
EDP Renewables North America LLC ("EDPR NA") and its subsidiaries develop, construct, own, and operate wind farms and solar parks throughout North America. Headquartered in Houston, Texas, with 49 wind farms, five solar parks, and 13 regional and development offices across North America, EDPR NA has developed more than 6,900 megawatts (MW) and operates more than 6,300 MW of renewable energy projects. EDPR NA is owned by EDP Renováveis, S.A. (EDPR).  For more information, visit www.edprnorthamerica.com.
About the Community Foundation of Randolph County
The Community Foundation of Randolph County is a publicly supported organization created by and for local citizens to benefit their community. Located in Winchester, Indiana, the Foundation pools gifts, large and small, to meet local needs, build the community's capacity to help itself, and improve the quality of life for all the community's residents. In 2018, the foundation granted over $150,000 to non-profit organizations in Randolph County and awarded more than $150,000 in scholarships to graduates of Randolph County high schools. For more information, visit www.randolphcountyfoundation.org.
MEDIA CONTACT:
EDP Renewables North America
Blair Matocha, Communications Manager
blair.matocha@edpr.com
(713) 356-2415