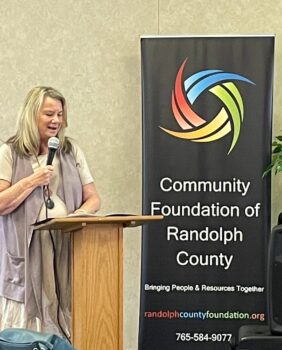 The Women's Fund of Randolph County hosted its annual Women's Fund Brunch & Auction on Saturday, August 13, 2022. There were an estimated 120 people in attendance, with the audience being mostly comprised of mothers and daughters. The Women's Fund is a component fund of the Community Foundation of Randolph County. The fund was opened in 2011 by the late Rev. Cherie Isakson and former foundation director Ruth Mills, to create better futures for the women and children of Randolph County. Isakson passed away in 2013 but the fund and her legacy lives on.
The Women's Fund runs an annual grant cycle that opens on January 1st and runs through the middle of February. Each year, a portion of the money that is raised at the annual event is used to fund these grant requests. 2022 Women's Fund grant recipients included Monroe Central Elementary All Pro Dads, Randolph County YMCA Girls on the Run, and The Randolph County Sharks Swim Team. At this year's event, there was approximately $10,500 raised to benefit the women and children of Randolph County. "This was my first time attending the event and even though I was outnumbered, I thought it was amazing to see not only the impact that the work of the foundation has but the strong connection the women of Randolph County have with one another," said Nick Dunham, the foundation's Grants & Community Impact Officer.
The guest speaker for this year's event was Judge Pat Riley. Judge Riley was named to the Indiana Court of Appeals by Governor Evan Bayh in 1994. A native of Rensselaer, Indiana, Judge Riley now resides here in Winchester. Drawing on her life experience, Judge Riley's speech was both inspiring and uplifting. Another highlight from the event was the auctioneer Jentry Flesher, of The Flesher Brothers Auctioneering & Real Estate, who had a lot of fun engaging the crowd during the auction. Among the items auctioned off were various mediums of artwork donated to be part of the art contest. This year's results were Sheryl Thurston coming in first place with her painting titled "Pink Ladies." Second place went to JoAnna Price for her piece of pottery titled "Shore of Paradise." Third place went to Grace Bailey for her painting titled "The Gentle Giant." The art was judged by Timothy Wells. The Community Foundation would like to thank Old National Bank, LifeStream Services, Randolph Nursing & Rehabilitation, Everheart Hospice, First Presbyterian Church, Winchester Rotary Club, Shelly Symmes, and an Anonymous donor for being this year's event sponsors.
If you're interested in joining the Women's Fund, have questions about the Women's Fund Grant Cycle, or would like to know more about The Community Foundation, please contact Nick Dunham at 765-584-9077 x200, or by email at ndunham@randolphcountyfoundation.org.