The News-Gazette and the Community Foundation of Randolph County continue their celebration of local heroes who have impacted the community or exceeded expectations to serve others. This effort is the result of a Community Foundation program that helps recognize such people, while also raising money to help others.
"We thought a really neat thing would be to create a list of Randolph County Heroes," said former Community Foundation board member Cathy Stephen-Miller of the ongoing program which started in 2015. "For $1,000, anyone can nominate a person (living or deceased), business, or community organization for the designation of a Randolph County Hero. The money goes into our unrestricted fund, which the board uses to do great things in Randolph County for years to come."
Those designated as Randolph County Heroes will have their names on a plaque at the Foundation office and will be featured in the News-Gazette.
The Randolph County Heroes Fund is a wonderful way to remember someone who has passed and a great way to honor those currently working to make Randolph County a better place to live. Our newest heroes, Kim & Marilyn Peterson, were nominated by: Union City Rotary Club, Steve & Marla Threewits, Sean Threewits, Jill Threewits Hemmelgarn, Dennis Pratt, and Cathy Stephen-Miller.
Kim & Marilyn Peterson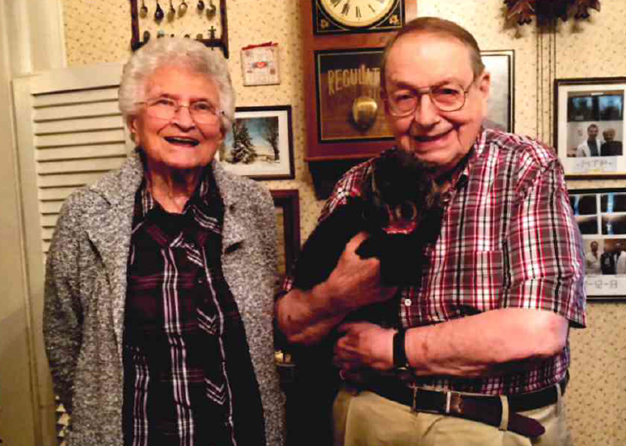 One came from the cold of Wisconsin. The other was homegrown, even being touted as Union City's own Shirley Temple. Together they formed a team that affected Randolph and Darke Counties for good for almost 65 years. Both Kim and Marilyn Peterson passed this summer, but they left behind a trail of encouragement, discovered talents, and experiences.
Like many successful teams, they both had defined roles in their community involvement. Marilyn was often in front of the crowd. Along with Union City residents Roberta Bennett and Diane Studebaker, she performed professionally with a trio called "The Triads."  The ladies sang both comedic and serious songs while accompanying themselves on guitars, bass, and banjo. Their talents were displayed every morning on Fort Wayne radio station WOWO as their rendition of "Little Red Barn" was the theme song for the morning show.
Marilyn's biggest impact in the community, however, was teaching music to teenagers. She expected much from her students, but she also held true to her promise to them that she would never embarrass them. If a student could not attend a practice or performance, she expected the student, not the parents, to inform her. The students learned to project, to look directly at audiences, and to show a belief in what they were singing. To that end, the age-appropriateness of the songs was always of utmost importance to her. Age restrictions on her groups were also strictly followed. Her philosophy was that waiting built an appreciation for an activity.
Some of her former students had wonderful things to say about Marilyn and her music teaching. Sean and Jill Threewits remember Mrs. Peterson not only as a piano teacher but a teacher of life. Jill Threewits Hemmelgarn says, "As I sat down at Mrs. P's piano (after being chased by her rooster to the door) every Wednesday for 10 years, I began to have a realization. Mrs. P was teaching me a lot more than piano. She taught me how to play well and properly, as well as perseverance, dedication, determination, and a few basketball pointers along the way!"
Sean Threewits says, "Mrs. P had high expectations – VERY high expectations, and she held you accountable. You couldn't pull a fast one on Mrs. P.; I tried! She instilled the love of piano in me, and because of her, I still play today. I think of her whenever my two daughters ask me to play. One is already taking lessons, and the other is begging to do so. Thanks, Mrs. P."
Brad Hoggatt had the following comments about his musical experiences with Marilyn: "I remember thinking as a child, watching my brother finish his tenure in Wesley Singers, that I simply couldn't wait to do that! Even before that experience, I remember Mrs. Peterson stopping me in a stairwell at church and saying, "You WILL be in Wesley Singers." That statement has stayed with me for nearly forty years – the fact that she knew me (the idea of small-town living hadn't blossomed yet for the 7-year-old me) and wanted me to sing with her in her group, I'll not forget that.
"Mrs. Peterson demanded quality, and you knew when things weren't going well when she'd leave the comfort of the piano and walk to the front of the sanctuary after having pounded the piano keys to an exuberant halt. She knew of our potential more than we did. She believed in us more than we believed in ourselves. And she wasn't afraid to tell us that we were not performing up to snuff because she knew we could, and should, and WOULD do better!
"I owe a lot to Mrs. Peterson and the training she provided me and my peers. I gained enough confidence in myself to audition for the Ball State University Singers. When I taught music at North Side Elementary School and started The Ambassadors, I used her teachings as a guide to get my students' absolute best work out of them. She would never allow us to simply sing a song – we SOLD each song, with our hands, our faces, our eyes. We learned to put emotion into our performances – something I tried to incorporate into my work, as well.
"Mentor. Musician. Matchmaker. Yes, Mrs. Peterson even played matchmaker. Had it not been for Wesley Singers, my wife and I would not have met. And had she not had enough faith in us to lead the group as Co-Presidents, our lives surely would have turned out entirely different. I/We owe so much to Mrs. Peterson. She was certainly a woman who marched to the beat of her own drum…and she proudly banged that drum as a guide for many youths to follow."
After a ten-year stint of teaching music at Ansonia High School in Ohio, she agreed to take over the Wesley Singers for one year. That lasted for over ten years as the group grew and grew, taking in high school students from across Darke and Randolph Counties. While many musical talents came through the door of her music room, her larger impact on youth was in building their self-confidence. She vocally encouraged the students that they could accomplish things, and often to their (and their parents) surprise, they did. All members of Wesley Singers knew that they could be called upon to introduce a song at a performance and they had better be ready! Kim and Marilyn both treasured when past students would come and visit them at their farm.
More of an organizer than an entertainer, Kim was a member (and often president) of many boards and organizations. Some of these were rather obvious, such as Rotary, the United Methodist Church Conference, the Union City Chamber of Commerce, and the Community Foundation of Randolph County. The less obvious included the Presidency of the Indiana Arabian Horse Club (the man never rode a horse, but his children were very active on the horse show circuit) and a member of the Board of Trustees of Methodist Hospital in Indianapolis (one of his proudest achievements was the construction of the children's wing to the hospital during his tenure). He did have a musical side, as well; Kim played the clarinet in the Greenville Municipal Concert Band for over thirty summers.
The Rotary Club of Union City is particularly proud of Kim. He has been honored as a Paul Harris Fellow and had PERFECT attendance for 50 years in the club. He served as President, Treasurer, Secretary, and Assistant District Governor.
Kim was also an advisor to many businesses in the area. His accounting and tax practices had clients from around the country. He appreciated the struggles that small-town businesses would face and shared his tax and corporate structure wisdom with many clients.
While their individual accomplishments were many, in later years most locals saw them as a team, rarely seeing one without the other. They enjoyed following the local sports teams, particularly the Union City High School girls' basketball team. The only place they truly competed was in who could do the bigger job of spoiling their little poodle dog.
Kim and Marilyn Peterson saw Union City and the surrounding Randolph and Darke County areas as a place to be proud of. Their efforts to appreciate the good things in the community were infectious. A legacy with the Community Foundation of Randolph County will continue that effort.