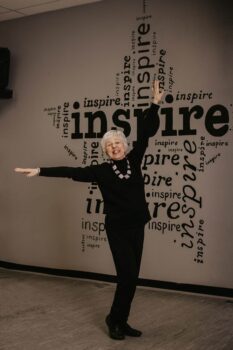 The Community Foundation of Randolph County continues to celebrate local heroes who have impacted the community or exceeded expectations to serve others. This effort is the result of a Community Foundation program that helps recognize such people, while also raising money to help others. The program started in 2015, and since that date, this nomination will make the 29th Randolph County Hero. For $1,000 anyone can nominate a person (living or deceased), business, or community organization for the designation of a Randolph County Hero. The money goes into our unrestricted fund, which the foundation uses to do and support great things in Randolph County for years to come.
Those designated as Randolph County Heroes will have their names on a plaque at the Foundation office and will be featured in media outlets.  The Randolph County Heroes Fund is a wonderful way to remember someone who has passed and a great way to honor those currently working to make Randolph County a better place to live. Our newest hero, Dixie Osting, was nominated by Al and Missy Williams.
Dixie Osting was an amazing mentor, friend, mother, and spouse, and perhaps most of all, an inspiration to the many thousands of area students over nearly four decades who joined her dance family.
In the fall of 1986, Dixie started Dixie's Dance Studio as a little hobby, never dreaming how that decision would end up igniting community in Winchester for 32 years.  She and her parents made the dance studio a second family for many participants.  Dixie has had a long-lasting effect on thousands of students and their families as she instilled life skills, which ensured her students have been able to prepare and present themselves positively in all situations and to become successes in anything they attempt.  Each student learned the true value of being a family because every boy and girl who entered Dixie's Dance Studio was treated as one of her own, which meant Dixie pushed them to be the best they could be while promoting teamwork and respect for one another. Dixie's students knew the studio was their home away from home.
When she opened the dance studio, Dixie could not have anticipated that it would grow into one of the region's foremost starting points for learning as her students learned not only dance routines, but skills that would carry over through a lifetime. Anyone who joined her studio became part of a close-knit family who would embrace mantras such as "Attitude is Everything" and 'Everybody Loves Everybody."
Dixie was a shining star in Winchester and, in fact, all of Randolph County. She attended Greensburg Community High School and was an unbelievable dance teacher who, during her lifetime, started studios in Greensburg, Westport, Columbus, Logansport, Brookston, Delphi, and Winchester.  Dixie could be heard over the tap of shoes on the wooden floor, "heel step, toe step, heel step, toe step."
Dixie married the love of her life, Dallas Osting, on August 4th, 1968.  They enjoyed 53 years of marital bliss and raised their four children – J.W., Wendi, Shane and their youngest, Kyle. Dixie and Dallas Osting spent their time together at the many basketball games and track meets that Dallas coached at Winchester Community High School and of course the dance studio.
Along the way, Dixie became a pillar in the community and became a magnet for developing friendships, often after only a brief encounter.   "She never met a stranger," her husband Dallas says. "She was always making new friends, even though she just met someone."
Dixie Osting was a strong, confident woman who excelled as a mentor, friend, mother, grandmother, and spouse, and perhaps most of all, as an inspiration to the many thousands of area students who joined her dance family. "I feel very lucky because we had a special relationship that few couples have. I supported her and she supported me, and we just had a special bond", Dallas acknowledges.
Since taking over Dixie's Dance Studio in 2007, Kyle has continued with his mother's vision, creating INSPIRE at DDS while adding more creative routines and entering more competitions. With fewer responsibilities at the dance studio, Dixie had more time to spend with her grandchildren and support her children in their careers. Over the last several years, Dallas says, Dixie "took cultivating her grandchildren very seriously" and attended as many of their activities as she possibly could. In addition to her love for dance, she enjoyed traveling, swimming, and shopping.
With each passing year, more and more youth were attracted to Dixie's dance family. While many students were in sports, band, or other activities, Dixie would find a way for those individuals to be part of the family. Many were so rewarded by her teaching that they returned years later with their children and their children's children. Her dance studio was the vessel for Dixie Osting's message of focusing on the bright side of life, believing in ourselves, putting our best foot forward, and reaching for the stars. Her impact on thousands of students and this entire community is without measure.
Dixie's gallant fight to beat her cancer was another way she showed determination and grit to our Winchester community. Dixie and Dallas have served as inspirations to many, and through her life of service to others, Dixie Osting is a Randolph County Hero.
A special thanks to Al and Missy Williams for your nomination and to Missy for your significant contribution to this piece.