The Community Foundation presented checks totaling $47,524 to eighteen (18) non-profit organizations supporting Randolph County at their Annual Dinner on November 9th at the Towne Square Community Centre in Winchester. The Foundation stewards its unrestricted dollars to assist non-profits in competitive grant cycles each Spring and Fall. The Foundation's Grants Committee, having reviewed applications based on established criteria and scoring, selected the following organizations to receive support for the 2021 Fall Grant Cycle.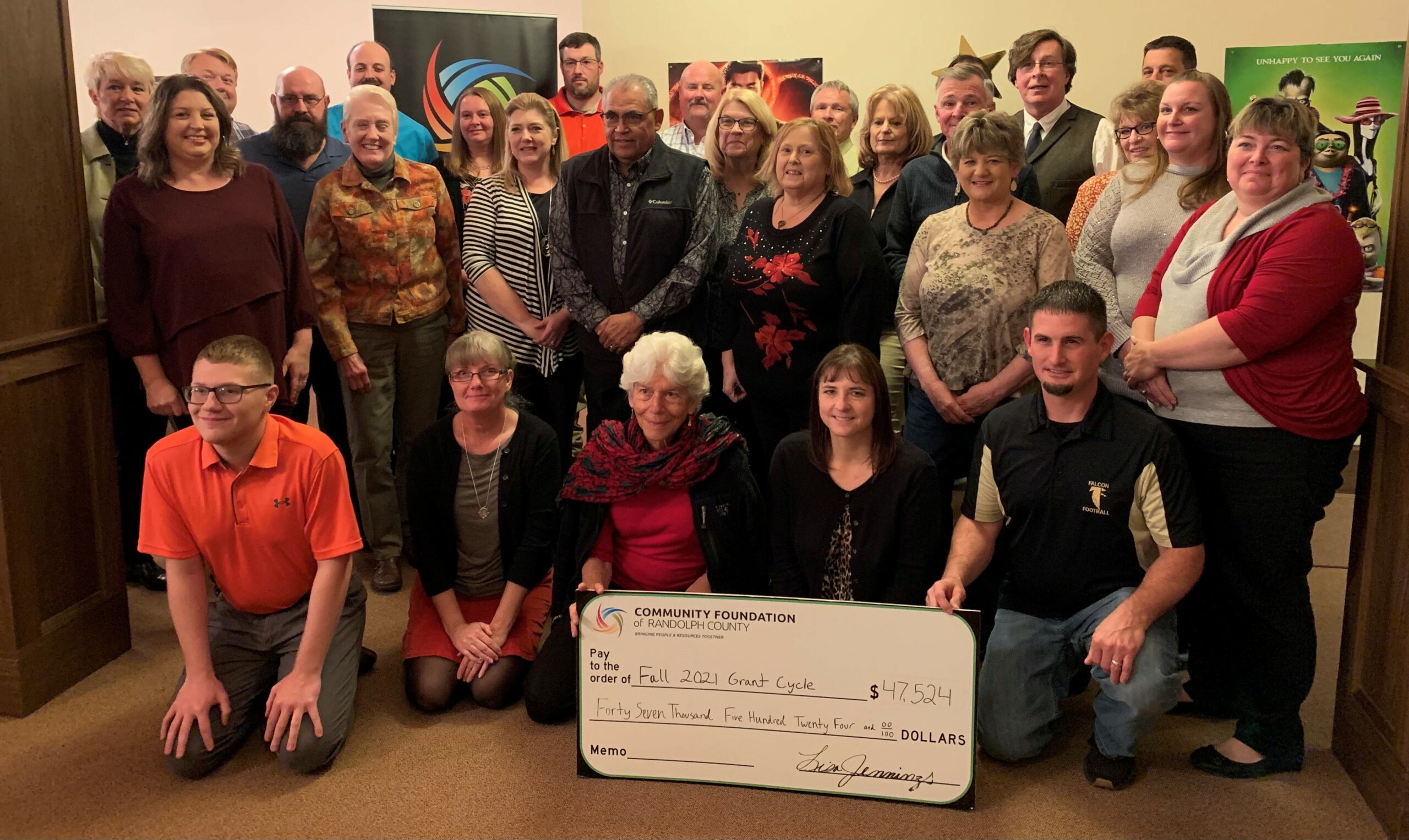 Historic Farmland USA

$955
To update their computer and accounting system
Randolph County United
$1,000
To fund the 2021 John C. Maxwell LIVE2LEAD
Randolph Southern Jr.-Sr. High School
$3,000
For marching band uniforms to help get a new marching band started
Randolph County 4-H

(Future Needs Committee)

$5,000
To replace old water supply lines from the 3 wells on the fairgrounds
Sweet Dreams for Randolph County Kids
$2,500
To help achieve their 2022 goal of building 40 beds for Randolph County kids
Winchester Alumni Association Scholarship Endowment Fund
$1,400
To create an interactive website for the Winchester Alumni Endowment Fund and its Golden Graduate project
Winchester Youth Football Program
$2,500
To upgrade their equipment
Community Christmas Corporation
$4,000
To pave Harter Park's parking facility
Lynn Preservation Society
$1,480
To fund their "History of the Union Literary Institute" booklet
Freedom Life Church (on behalf of Sharks Swim Team)
$2,600
To replace their lane lines and reels
Randolph Central School Corporation
$2,500
To help replace the marching band's 50-year-old band tower
Youth Service Bureau of Jay County
$2,000
To fund a new BASE (behavioral, academic, social education) incentive program
Jay-Randolph Developmental Services
$2,000
To upgrade their sprinkler system
Second Harvest Food Bank of East Central Indiana
$3,000
To support a portion of The Big Idea school initiative
Randolph County Historical Society
$2,000
For shelving, storage room renovation, and increased microfilm holdings
Community Help Center
$6,000
To have their walk-in freezer built
PAWS Animal Rescue & Shelter
$2,089
For kennel covers and a storage shed
Fountain Park Cemetery Association
$3,500

To replace the Chapel's 28-year-old roof and gutters
Grants were made possible from the generous support of the Foundation's Community Enrichment Fund, the Union City Community Fund, the Rural Randolph Cares Agricultural Fund, and the Whitacre Family Charitable Fund. "We are grateful for the services that these organizations provide for Randolph County citizens, and we are proud to be a community partner," said Luke Rowles, Program Officer at the Community Foundation.
The Community Foundation of Randolph County would also like to recognize The Winchester Foundation for celebrating 75 years of service. Chris Talley, Chairman of their board, gave a speech detailing the history and mission of their organization, as well as its relationship with the Community Foundation. He closed by announcing that The Winchester Foundation, in honor of their 75 years, would be donating $75,000 to the Community Foundation. "This generous grant from The Winchester Foundation will further the Community Foundation's current initiatives and provide additional capacity for grantmaking practices in our county; we are incredibly grateful for this contribution," said Lisa Jennings, Executive Director at the Community Foundation.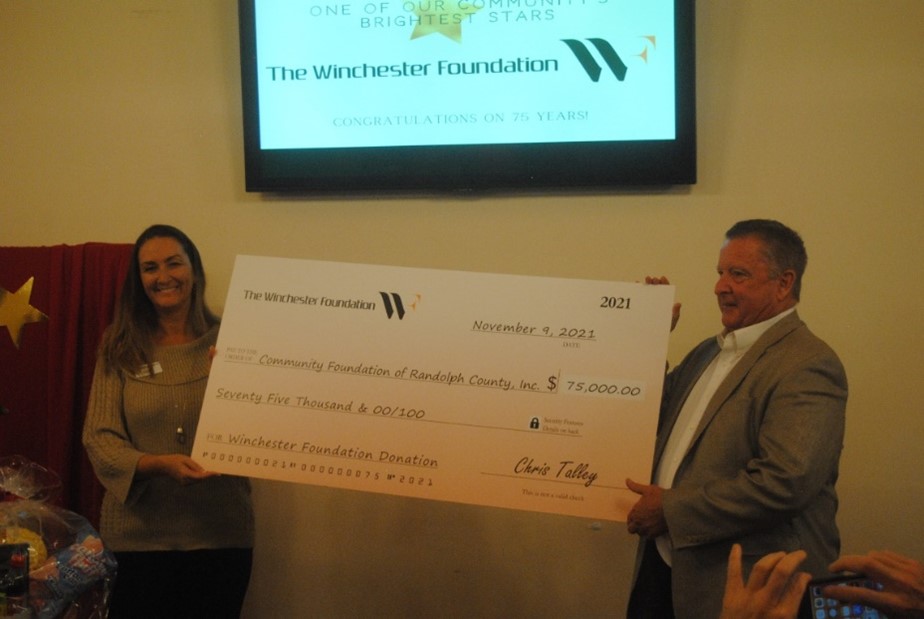 Lisa Jennings, Executive Director of the Community Foundation; Chris Talley, Chairman of the Winchester Foundation
Additionally, Indiana Landmarks presented their Sandi Servaas Memorial Award to the Community Foundation of Randolph County and Randolph County United. This award recognizes outstanding achievement in historic preservation, and it will be proudly displayed at the Randolph County Historical Museum. The award was given for the two organizations' efforts to bring every third-grade student in the county to downtown Winchester to tour the historic courthouse and historical museum while interacting with first-person interpreters.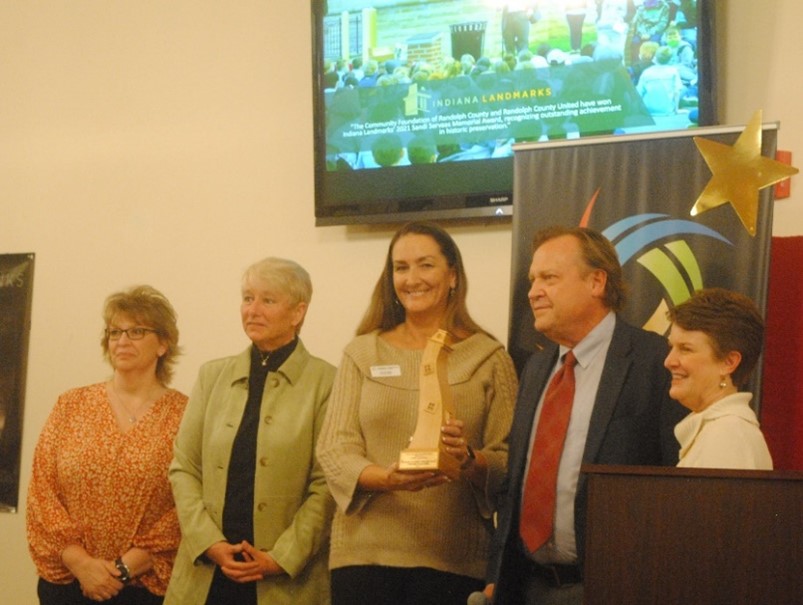 Ceann Bales (RCU), Missy Williams (RCU), Lisa Jennings (CFRC), Marsh Davis & Suzanne Stanis (Indiana Landmarks)
The night also included a fundraising opportunity for the Randolph County Fund for Education, which was established to help address the needs of educators and education in our community. The Community Foundation is challenging the community to give to this endowed fund by offering a $1 to $1 match opportunity, meaning that donors' gifts go twice as far and make twice the impact. Towne Square Cinema offered a wonderful gift basket, with a donation functioning as a raffle ticket. The recipient of that basket was Katie Rowles.
The next competitive grant cycle will be Spring 2022. Please contact the Foundation at 765-584-9077 or visit www.randolphcountyfoundation.org to learn more or to make a donation.