The Community Foundation presented checks totaling $65,500 to twelve (12) non-profit organizations supporting Randolph County at their Spring Grants Reception on May 12th at the Community Room in Union City. The Foundation stewards its unrestricted dollars to assist non-profits in competitive grant cycles each Spring and Fall. The Foundation's Grants Committee, having reviewed applications based on established criteria and scoring, selected the following organizations to receive support for the 2022 Spring Grant Cycle.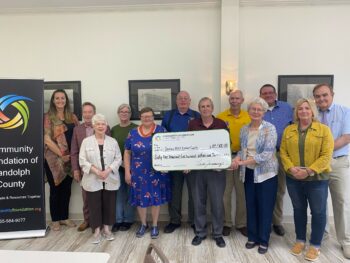 Lisa Jennings, Executive Director of the Community Foundation with the grant recipients.
| | | |
| --- | --- | --- |
| Indiana Lions Club (on behalf of Union City Lions Club) | $1,000 | To help fund the Union City Lions Club 75th Anniversary Celebration on 8/7/22. |
| Winchester Alumni Association, Inc. | $2,000 | To help purchase envelopes, stamps, and printing of newsletter |
| Youth Opportunity Center | $12,000 | To provide concrete assistance costs for Family Preservation clients in Randolph County only |
| Randolph County Literacy Coalition | $4,000 | To help fund the School Book Program |
| Art Assoc. of Randolph County | $3,000 | To help fund kids program and art show/calendar |
| State Line Heritage Days | $6,000 | To help provide entertainment for this year's festival |
| City of Winchester Park Board | $6,000 | To help fund a faith and worship concert series |
| Preservation Society of Union City IN-OH | $5,000 | To help support the Antique Mall 30th Anniversary Celebration; upgrade and maintain the Kirshbaum Building |
| The Journey Home | $12,000 | To help support their Veteran Outreach Covid-19 Recovery Project |
| Randolph Eastern Schools (Union City) | $2,500 | To help fund the Apache Design and Retail Shop's POS system |
| Randolph County YMCA | $5,000 | To help fund their summer day camp |
| Union City Education Foundation | $7,000 | To help purchase donor management software |
Grants were made possible from the generous support of the Foundation's Community Enrichment Fund, the Union City Community Fund, the Wick's Employees Giving Fund, the Chris & Doreen Culy Family Charitable Find, the Goodrich Bandshell Fund, the EDP Renewables Charitable Fund, the James and Linda Noffsinger Fund, and the Whitacre Family Charitable Fund.
The next competitive grant cycle will be Fall 2022. Please contact the Foundation at 765-584-9077 or visit www.randolphcountyfoundation.org to learn more or to make a donation.