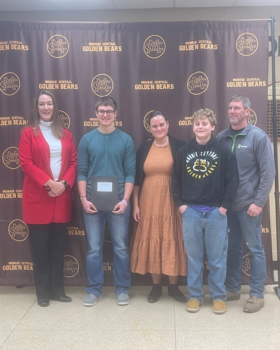 The Community Foundation of Randolph County is pleased to announce the recipient of the 2023 Lilly Endowment Community Scholarship for Randolph County – Elijah Taylor, Monroe Central High School. Lilly Endowment Community Scholars are known for their community involvement, academic achievement, character, and leadership.
"The Community Foundation of Randolph County looks at students with leadership potential, who are well-rounded and community-minded for the Lilly Endowment Community Scholarship," said Lisa Jennings, Executive Director of the Community Foundation. "Elijah Taylor is a shining example of a student who has made a difference in his school community as well as the larger community. He will carry the honor of being a Lilly Scholar with him for the rest of his life."
Each Lilly Endowment Community Scholarship provides for full tuition, required fees and a special allocation of up to $900 per year for required books and required equipment for four years. The scholarship is for undergraduate students studying on a full-time basis leading to a baccalaureate degree at any eligible Indiana public or private nonprofit college or university. Lilly Endowment Community Scholars may also participate in the Lilly Scholars Network (LSN), which connects both current scholars and alumni with resources and opportunities to be active leaders on their campuses and in their communities. Both the scholarship program and LSN are supported by grants from Lilly Endowment to Independent Colleges of Indiana (ICI) and Indiana Humanities.
"Ambition, creativity, and the desire for change are but a few characteristics that Lilly Scholars possess. Randolph County has been blessed with an abundance of young innovators who are constantly striving for change. Scholarships such as this allow for brilliant young people to create opportunities where they will be able to utilize their skills to better their community. I was honored to have been selected as the recipient of the 2022 Lilly Endowment Community Scholarship of Randolph County. Through this endowment, I was able to expand my network and connect with fellow recipients. This has not only created opportunities for me on the local level, but also on a national scale. I look forward to seeing how future winners continue to exemplify what it truly means to be a Lilly Scholar," said Braydon Hoggatt (Lilly Endowment Community Scholar).
In determining Randolph County's Lilly Endowment Community Scholar nominees, applicants are scored on academic ability, extracurricular activities, work/community effort, honors and awards, and goals and aspirations. Applicants are also required to write an essay. Five finalists are invited to interview with the Foundations' Committee, where they are scored on professional demeanor, presentation skills, and quality of response. After the interviews and final scoring determinations, nominees were submitted to ICI, the statewide administrator of the Lilly Endowment Community Scholarship Program, which approves the final selection of scholarship recipients.
"This year we had fifty-eight eligible students who met the criteria to apply for the Lilly Endowment Community Scholarship Program. Of those fifty-eight, we had thirty-seven applicants. Each year the quality of the applications is remarkable, and this year was no exception. The nominating committee works diligently to determine the top candidates, and any of them could have qualified to be a candidate," said Autumn Dixon, Scholarships & Community Development Officer at the foundation. The four finalists not selected as the recipient of the Lilly Endowment Community Scholarship will receive a $1,250 scholarship from the Community Foundation. Those students are Emma Bosken, Aidan Moystner, Elly O'Connor, and Karly Puckett.
Lilly Endowment created the Lilly Endowment Community Scholarship Program for the 1998-99 school year and has supported the program every year since with grants totaling more than $486 million. More than 5,000 Indiana students have received the Lilly Endowment Community Scholarship since the program's inception.
The primary purposes of the Lilly Endowment Community Scholarship Program are: 1) to help raise the level of educational attainment in Indiana; 2) to increase awareness of the beneficial roles Indiana community foundations can play in their communities; and 3) to encourage and support the efforts of current and past Lilly Endowment Community Scholars to engage with each other and with Indiana business, governmental, educational, nonprofit and civic leaders to improve the quality of life in Indiana generally and in local communities throughout the state.
The Community Foundation of Randolph County, Inc. seeks to bring people and resources together to strengthen the quality of life, both now and in the future, for the residents of Randolph County. In 1998 the first Lilly Endowment Community Scholarship program of Randolph County was awarded. The foundation was founded in 1993 by a group of concerned citizens and is preparing to celebrate their 30th anniversary in 2023.
In addition to administering the Lilly Endowment Community Scholarship, the Community Foundation of Randolph County manages more than 70 additional scholarship funds that provide scholarship awards to graduating seniors and current college students in Randolph County. Scholarship applications are currently open at randolphcountyfoundation.org. The deadline to apply is, January 6, 2023. Each scholarship has unique criteria, and awards are given for a variety of activities and for a wide range of grade point averages. All current high school seniors are invited to visit randolphcountyfoundation.org to complete the universal application to determine for which specific scholarships they may apply. Questions may be directed first to high school counselors or emailed to Scholarships & Community Development Officer, Autumn Dixon, CNP, adixon@randolphcountyfoundation.org.
Lilly Endowment Inc. is an Indianapolis-based private philanthropic foundation created in 1937 by J.K. Lilly Sr. and his sons Eli and J.K. Jr. through gifts of stock in their pharmaceutical business, Eli Lilly and Company. Although the gifts of stock remain a financial bedrock of the Endowment, it is a separate entity from the company, with a distinct governing board, staff and location. In keeping with the founders' wishes, the Endowment supports the causes of community development, education and religion. The Endowment funds significant programs throughout the United States, especially in the field of religion. However, it maintains a special commitment to its founders' hometown, Indianapolis, and home state, Indiana.
Since 1997, Independent Colleges of Indiana has administered the Lilly Endowment Community Scholarship Program statewide with funding provided by Lilly Endowment. Founded in 1948, ICI serves as the collective voice for the state's 29 private, nonprofit colleges and universities. ICI institutions employ over 22,000 Hoosiers and generate a total local economic impact of over $5 billion annually. Students at ICI colleges have Indiana's highest four-year, on-time graduation rates, and ICI institutions produce 30 percent of Indiana's bachelor's degrees while enrolling 20 percent of its undergraduates.