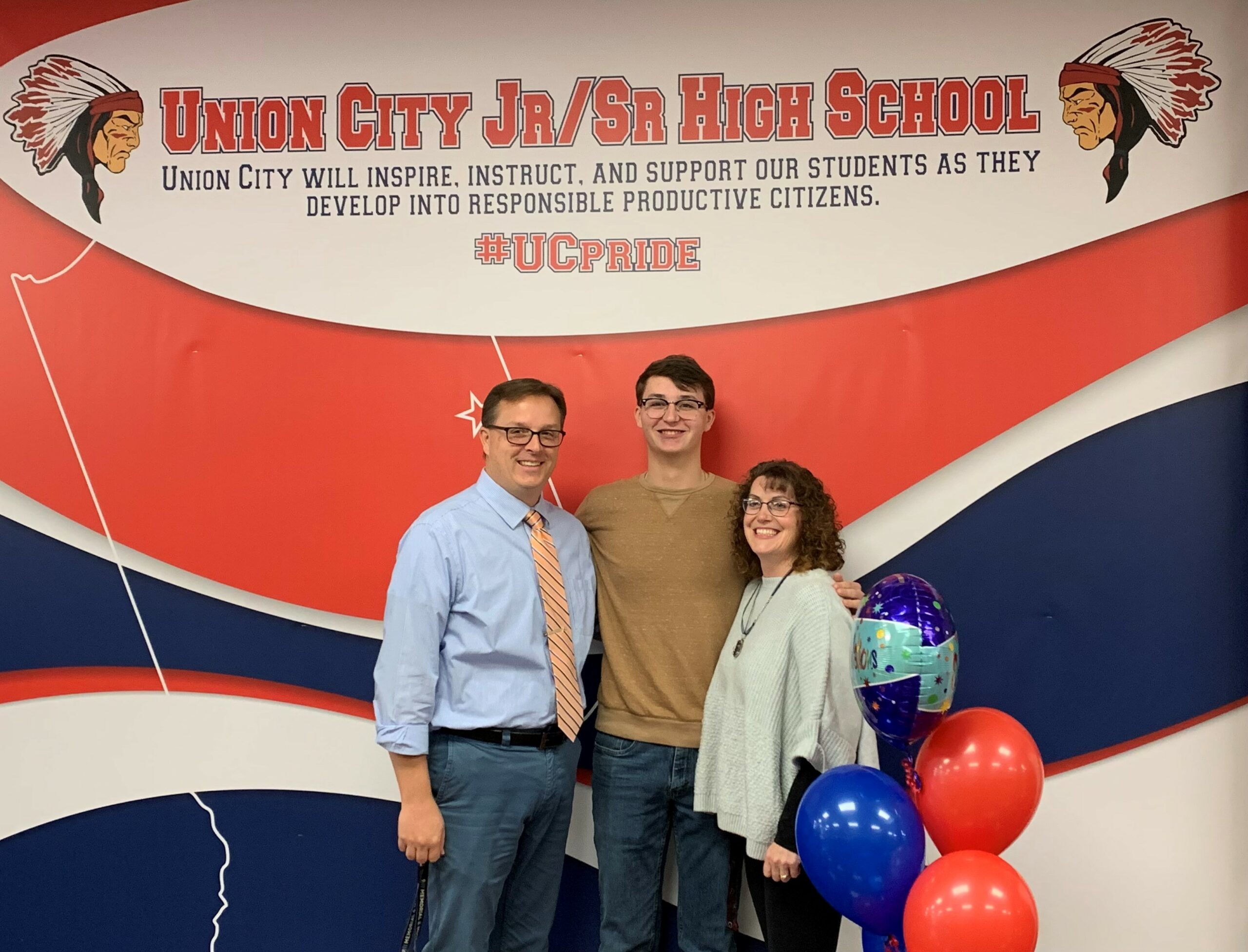 The Community Foundation of Randolph County is pleased to announce Braydon Hoggatt (Union City High School; son of Brad & Amy Hoggatt) as Randolph County's recipient of the 2022 Lilly Endowment Community Scholarship. Lilly Endowment Community Scholars are known for their community involvement, academic achievement, character, and leadership – Braydon is no exception.
"I think the Committee was especially impressed with the range of Braydon's abilities and accomplishments. Not only is he an outstanding student, but his leadership and involvement in the community are exceptional. He is a friendly, committed, and caring young man; we look forward to seeing what his future holds," said Joyce Husmann, chair of the Community Foundation's LECSP Nominating Committee. Braydon plans to attend either Purdue University to study Biomolecular and Genetic Engineering or Manchester University to study Business Management and Communications.
Each Lilly Endowment Community Scholarship provides for full tuition, required fees, and a special allocation of up to $900 per year for required books and required equipment for four years of undergraduate study on a full-time basis leading to a baccalaureate degree at any eligible Indiana public or private nonprofit college or university. Lilly Endowment Community Scholars may also participate in the Lilly Scholars Network (LSN), which connects scholars with resources and opportunities to be active leaders on their campuses and in their communities. Both the scholarship program and LSN are supported by grants from Lilly Endowment to Independent Colleges of Indiana (ICI).
"The young people of Randolph County have countless goals and ambition. With the right support and motivation, they can achieve any number of great things. Thanks to scholarships like [this], we are ensuring the success of Indiana's brightest and most talented students. When I was selected as the 2020 Lilly Endowment Community Scholarship recipient [for Randolph County], more opportunities became available to me than ever before. [It] also connected me with a network of like-minded individuals and corporate entities. Working with other Lilly Endowment Community Scholars from across the state has created many friendships and lifelong bonds. I'm excited to see how this program continues to impact the next generation of young Hoosiers," said Derick Williams.
In nominating Randolph County's Lilly Endowment Community Scholar, applicants are scored on academic ability, extracurricular activities, work/community effort, honors and awards, and goals and aspirations. Applicants are also required to write an essay. Five finalists are invited to interview with the Foundations' Committee, where they are scored on professional demeanor, presentation skills, and quality of response. Nominees are then submitted to Independent Colleges of Indiana, the statewide administrator of the Lilly Endowment Community Scholarship Program, for the selection of scholarship recipients.
"The applicants this year were outstanding, and the Committee worked diligently to determine the top candidates. In the end, all of the finalists were amazing, and any of them could have qualified to be the recipient," said Joyce Husmann. The four finalists not selected to receive the Lilly Endowment Community Scholarship will receive $1,250 scholarships from the Community Foundation. Those students are Brookelyn Erwin, Olivia Keesling, Christina Sowinski, and Zoe Whitehead.
Lilly Endowment created the Lilly Endowment Community Scholarship Program for the 1998-1999 school year and has supported the program every year since with tuition grants totaling in excess of $439 million. More than 5,000 Indiana students have received the Lilly Endowment Community Scholarship since the program's inception.
The primary purposes of the Lilly Endowment Community Scholarship Program are: 1) to help raise the level of educational attainment in Indiana; 2) to increase awareness of the beneficial roles Indiana community foundations can play in their communities; and 3) to encourage and support the efforts of current and past Lilly Endowment Community Scholars to engage with each other and with Indiana business, governmental, educational, nonprofit and civic leaders to improve the quality of life in Indiana generally and in local communities throughout the state.