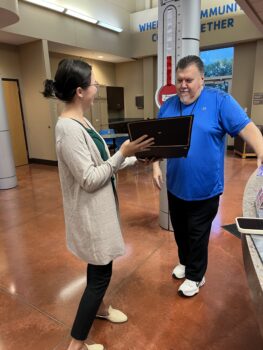 The Community Foundation of Randolph County continues to celebrate local heroes who have impacted the community or exceeded expectations to serve others. This effort is the result of a Community Foundation program that helps recognize such people, while also raising money to help others. The program started in 2015, and since that date, this nomination will make the 30th Randolph County Hero. For $1,000 anyone can nominate a person (living or deceased), business, or community organization for the designation of a Randolph County Hero. The money goes into our unrestricted fund, which the foundation uses to do and support great things in Randolph County for years to come.
Those designated as Randolph County Heroes will have their names on a plaque at the Foundation office and will be featured in media outlets.  The Randolph County Heroes Fund is a wonderful way to remember someone who has passed and a great way to honor those currently working to make Randolph County a better place to live.
Our newest hero, Tom Byrum, was nominated by Ceann Bales, DeAnn Dixon, Paul Faddis, and Brody Tarter. Paul Faddis describes Tom by saying, "I don't know a person that has impacted the lives of more children than Tom Byrum! Tom works tirelessly to make our community a better place, from organizing programs at the YMCA to broadcasting countless high school sporting events, and of course his weekly radio show. Tom is truly one of the most caring and giving people I have ever met. This community is fortunate to have Tom in it and I am thankful I get to call him my friend!"
The newest Randolph County Hero is one of those It's a Wonderful Life stories. Tom Byrum grew up in Randolph County and was very active in FFA. Upon graduating from Randolph Southern Jr. Sr. Highschool, Tom planned to head to Purdue with the goal of becoming a veterinarian. However, and thankfully for Randolph County, God had other plans for Tom's life and career. Randolph County would not be the community it is today without Tom's influence! Not only would Randolph County have been different, the lives of literally thousands of youths would have been different.
Tom Byrum began his distinguished career with the Randolph County YMCA 35 years ago this April. "Tom is a very special person that gives an unlimited number of hours to his community and is always the silent rock for everyone that he knows.", stated DeAnn Dixon, former Childcare Director at the Randolph County YMCA. Tom began as an Assistant Program Director, then was promoted to Program Coordinator, then Program Director, and finally promoted to his current roles as Senior Program Director. During his tenure with the Y, Tom oversaw the launch of numerous new programs to benefit the youth of our community. Tom started the T-Ball program with Jeff Clark, the Ray Club Volleyball program with Jodi Peacock, and the Gary Horner Classic that allows High School girls basketball teams around the area to compete during the summer. Tom also started the annual Y Golf Open and Golf Ball Drop which over the two decades has raised over $120,000 to support youth sport programs and ensure that every youth in Randolph County has an opportunity to participate regardless of their ability to pay. Tom also helped grow the Y's Corporate and Church Challenge programs. Finally, Tom helped implement various wellness programs, helped oversee the construction of the Beynon Family Childcare Center and facility renovations. Ceann Bales, former CEO of the Randolph County YMCA, stated that "Tom was and is the backbone of the Y. The Y wouldn't be where it is today without Tom's dedication, passion, and perseverance." Ceann went on to say that "In his 35 years with the Y, Tom made significant personal and professional sacrifices to pursue his belief of the positive impact sports make on a young's person's life both now and as they grow into adults."
While many know Tom as the Y guy, many more know him as the voice of sports on Star 98.3. For 27 years, Tom has served as the sports announcer for football, basketball, and baseball. Tom brings the game to life, making those at home feel like they are in the stands. Tom's excitement for the kids can be heard in his voice. Tom has a special gift of learning the away team members' names so their families can also feel a part of the game. Tom can also be heard on Star 98.3 every Saturday morning at 8a.m. from Mrs. Wick's talking sports with area coaches. But his 35 years with the Y and 27 years with Star 98.3 is outdone by Tom's 43 years with the News-Gazette writing about the area's basketball and football games.
Tom's dedication to youth sports has not gone unnoticed. Tom has been the honoree of the Media Award given by Indiana High School Football Coaches, the Media Award given by District Baseball Coaches, and received the high honor of the IHSAA Distinguished Media Award.
Brody Tarter, owner of RE/MAX Evolve, described Tom as follows, "Tom Byrum is a friend, mentor and hero who has devoted countless hours serving our community.  He has positively impacted people during his time working at WZZY, the New-Gazette and The Randolph County YMCA.  Tom is loyal, thoughtful, smart and one who advocates for the success of all.  There is no doubt Randolph County is a better place because of Tom!"
So, while Tom has always been that behind-the-scenes community hero, we know from It's a Wonderful Life, it is the quiet, humble, heroes that make the most impact and difference in their communities.  How fortunate Randolph County is to have a Community Hero such as Tom Byrum!