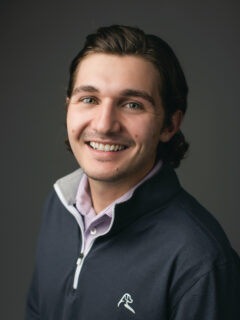 Program Officer, Donor Relations, & Communications Specialist
Phone Number:
765-584-9077
Luke Rowles originally started with the Foundation as a part-time Communications Specialist through funding from the Lilly Endowment, Inc. GIFT VII Implementation Grant. He has since joined the team as our full-time Program Officer, carrying on his previous duties and donor relations. He graduated from Jay County High School in 2015. Receiving his community's Lilly Scholarship, he went to Wabash College where he graduated Magna Cum Laude in 2019 with a liberal arts degree in social psychology and nonprofit business. Luke moved to Winchester at the beginning of 2021 and was eager to get involved — he is a past intern for both The Portland Foundation and Henry County Community Foundation.
Luke and his wife love spending time with their dogs; taking walks and hiking. Luke also really enjoys golfing, and he's grown quite fond of our local club. He likes to travel and try new foods/drinks, and he finds great joy in spending time (movies, board games, and listening to music) with family and friends.